Your Data Matters.. Digitization at the heart of Resilience.
Amidst the effects of the global pandemic of Covid-19, this calamity has also shed light on just how vulnerable global supply chains can be. It is difficult to put a value on Resilience until you need it, however holistically you can't afford to miss it. Supply chain disruption can lead up to 68% of productivity loss or 58% of increased labor cost (Source: Business Continuity Institute and Zurich Insurance Group).
Following a stagnating economy of China its manufacturing/production and logistical infrastructure are back up to two thirds capacity and climbing. Due to sourcing and the global reliance of economies this had a domino effect on global trade. As mentioned by a research done by BCI Global, 83% of companies said they had no adequate level of resilience, and would like to achieve it.
According to IMD Research, Supply Chain Resilience is categorized by 5 pillars: Vulnerability, Management Culture, Procurement, Operations, and Demand & Visibility.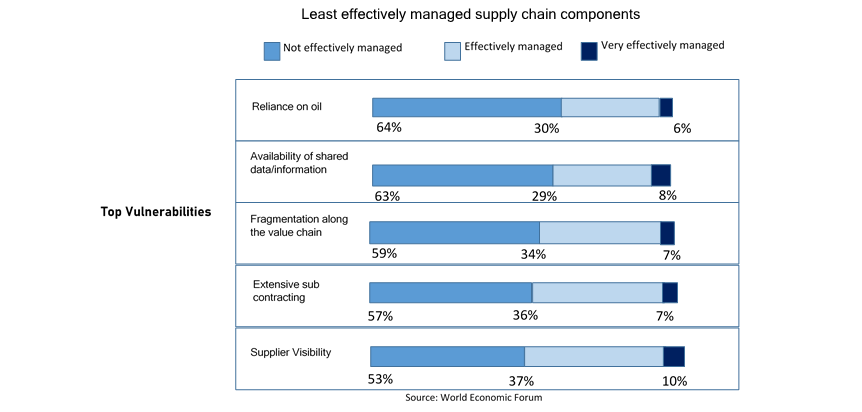 Let's talk about Vulnerability. World Economic Forum (presented recently DATA) the top 5 vulnerabilities for supply chains and shows how these topics are managed effectively by the sample group composed of 400 CEO's across 10 major industries. (Surveyed by Accenture) 
The single most important factor characterizing resilience is collaboration along the entire value chain. This can be achieved through uniform data and proper exchange and analysis of data. Evidently a sudden shock in the supply chain disrupts and adds complexity to sourcing and forecasting such peaks or shortages. This is where historic data comes in, this data must be analyzed in order to visualize the risk scenarios and how to set up different scenario plans based on cause and effect. More importantly such disruptive times along fragmented chains require fast and agile exchange of information in from multiple stakeholders in order to flexibly handle any risk scenario. The bridging function possible to cope with such rapid shocks is the digitization of the value chain. In fact as stated by the World Economic Forum, 4 of the 5 biggest vulnerabilities to Supply Chains deal with visibility and proper collaboration along the supply chian.
Pharox gives you control, delegate who see's: what, when, where and how. 
Download our "Digitization of Global Trade" brochure.